A strong partnership.
SINOMACH and FINOBA AUTOMOTIVE
Since the beginning of 2017 FINOBA AUTOMOTIVE is part of the SINOMACH-Group. The state-owned company is the most important mechanical engineering company in China and ranked 14th in Chinese foreign trade. SINOMACH was founded in 1997 and consists of more than 40 companies worldwide with more than 110.000 employees in over 170 countries.
SINOMACH with their automotive division AE Automotive Engineering Corporation and their German subsidiary AE Industry GmbH, participates in FINOBA AUTOMOTIVE. SINOMACH, one of the 300 largest companies in the world, intends to strengthen and expand FINOBA AUTOMOTIVE on the international market in and outside of Europe. SINOMACH is convinced in and supports the unchanged current management Chief Executive Officer and President Dipl.-Ing. Guido Barde and Chief Executive Officer B.Sc. Ing. Rinze Dijkstra.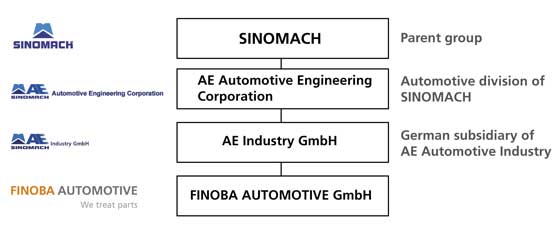 Facts and figures
Founded in 1997
110.000 employees worldwide
China`s most important mechanical engineering company
Ranked 288th  of the largest company worldwide
Ranked 14th  in Chinese foreign trade
Bank reference: AAA